Daikin 1.5 Ton, 3 Star Inverter Split AC – FTKT50TV16U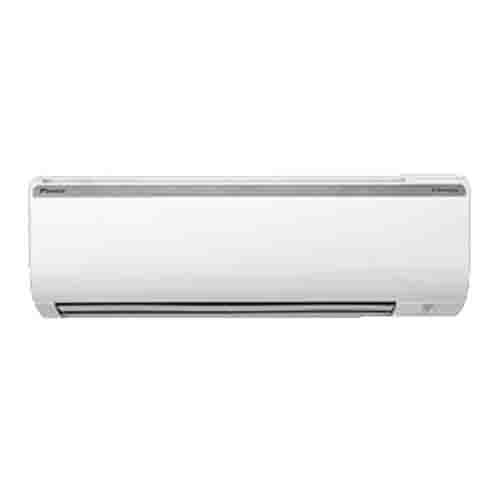 High Ambient Operation- 54°C
Power Chill Operation

Coanda Air Flow

PM 2.5 Filter
Econo Mode
High Ambient Operation- 54°C
Daiking cools effortlessly even at temperatures up to 54°C. It is a perfect solution to give you respite in scorching heat upto 54°C ambient temperature.
Helps you save on the electricity bills and share the
same power circuit with other devices simultaneously
without any problem.
The filter removes air-borne particulate matter, as
small as 2.5 microns, to give you cool and clean air.
Cool down your house so fast even when outside temperature is soaring. Diakins Power chill operation cools down 20% faster as compared to normal mode. Power chill ensure room temperature drops rapidly for immediate comfort.
Spreads cool air uniformly across the room through horizontal and vertical louvers.
Make way for effective air circulation and efficient temperature distribution with daikins coanda airr flow designed to give the best air conditioning experience. This function ensures cooling at corners of the room by streming cool air upwards along the ceiling avaoiding furniture or Obstruction.
100% Copper condenser tubes ensure a better rate of heat transfer, better resistance to corrosion, and ability to withstand high pressure, thereby increasing the durability of the product.
Inner Grooved Copper Tube
Inner grooved copper pipes help Daikin air conditioners provide faster & reliable cooling while also enhancing life of the product.
Daikin ACs use an environment friendly R-32 refrigerant. This has zero ozone depletion effect ad low global warming effect, hence doing its bit to battle global warming.
Stabilizer Free Operation
The unique stabilizer free operation prevents voltage fluctuations, hence ensuring safety while also saving energy.
| | |
| --- | --- |
| Weight | 11 kg |
| Dimensions | 885 × 298 × 229 mm |
| Air Conditioner Type | Inverter Split AC |
| Tonnage | 1.5 Ton |
| Star Rating | 3 Star |
| Brand | DAIKIN |
| Cooling Capacity (W) | 5280 |
| Compressor | Swing |
| Refrigerant | R-32 |
| ISEER Value | 3.99 |
| Air circulation (In/Out) (CFM) | 572 |
| Noise Level (Indoor) (db) | High 44 – Low 35 |
| Operation Mode | Econo Mode, Sleep Mode, Self Diagnosis, Timer, Auto Restart |
| Panel Display | LED |
| Filters | PM 2.5 Filter |
| Air Swing | Air Swing (Up-Down) |
| Other Functions | 2 Way swing ; Power airflow dual flaps ; Wide-Angle Louvers ; New Coanda Airflow ; Power Chill Operation ; Econo Mode ; Smell proof operation ; Auto-Restart after Power Failure |
| Power Supply (Volt/Phase/Hz.) | 100-290V/Single/50 |
| Indoor + Outdoor Unit Weight(Kg) | 11+34 |
| Warranty | 1 Year on Product, 10 Years on Compressor Manufacturer Warranty. |
| Country of Origin | India |