Haier 1.6 Ton, 5 Star Kinouchi Heavy Duty Cool Inverter Split AC (HSU19K-PYG5BE)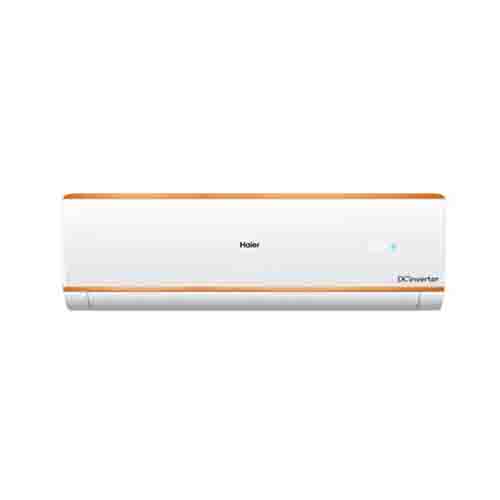 Self-Clean – A Complete Indoor Wet Wash
Triple Inverter+ – Upto 65% Energy Saving
Hyper PCB
60°C Cooling at extreme Temperature
Hyper PCB
Super Sonic Cooling
In the frost self clean feature, a frost is formed on the AC's evaporator which traps all the dust present on the coil and after some time when the frost melts, it washes out all the dirt. Through this, you get an actual indoor wet wash and breathe clean & healthy air.
Compared with conventional inverter technology, Haier Triple Inverter Plus integrates TLFM inverter control, PID inverter control and A-PAM inverter control to achieve smart control of the air conditioner and, in the meanwhile, maximize comfort, reliability and highly efficient performance & giving upto 65% Energy Saving.
60°C Cooling at extreme Temperature
Special design and better conformal coating protect its components against various elements that reduce its lifespan and keeps you cool even at 60°C high temperature. With Haier AC you can Enjoy Cool & Healthy Air at Extreme Temperature as well.
The 7 In 1 Easy Convertible option lets you convert your AC into 7 different modes based on your needs and convenience. The air conditioner can easily be converted to any tonnage based on ones' requirement thus giving you more energy savings.
R32 is a highly efficient refrigerant with a lower global warming potential as compared to R410A, a commonly found refrigerant in residential air conditioners.
Haier indoor unit has the Best in class motor, optimized fan and air duct which enables the air conditioner to blow air as long as 15m. Which Helps in Cooling the Room Faster and Helps in Reaching Extreme Corners of the Room.
It's new generation DC inverter technology having PKC (Pulse Kill Control) and KTS (kick torque start) which rise up the compressor frequency to 50Hz in 0.24 s for ultimate cooling.
This feature Provides consistent, cooling with optimized design to cope with voltage fluctuations and unexpected damages that may lead to malfunction of the air conditioner.
Haier AC Comes with 100% Grooved Copper Which helps the Compressor avoid unexpected damages and have a longer life. The Heat Exchange efficiency is also increased by 30-50% making the AC Perform Better.
| | |
| --- | --- |
| Weight | 13.5 kg |
| Dimensions | 1017 × 319 × 235 mm |
| Air Conditioner Type | Inverter Split AC |
| Tonnage | 1.6 Ton |
| Star Rating | 5 Star |
| Cooling Capacity (W) | 5400 |
| Compressor | Triple Inverter |
| Refrigerant | R-32 |
| ISEER Value | 4.75 |
| Air circulation (In/Out) (CFM) | 1200 CMH |
| Noise Level (Indoor) (db) | 30 |
| Operation Mode | Covertible |
| Panel Display | Magic Display |
| Filters | Micro Dust Filter |
| Air Swing | Auto Air Swing (Up-Down) |
| Power Supply (Volt/Phase/Hz.) | 220-240/Single/50 |
| Indoor + Outdoor Unit Weight(Kg) | 13.5+32 |
| Other Functions | Self Clean, Triple Inverter Plus,Micro Dust Filter, 60°C Cooling at extreme Temperature, Super Anti Corrosion, Upto 65% Energy Savings, Copper Heat Exchanger, Humidifier, Stabilizer Free Operation, DC Inverter Technology |
| Brand | HAIER |
| Warranty | 1 Year on Product, 12 Years on Compressor |
| Country of Origin | India |