LG 1.5 Ton, 5 Star AI+ Convertible 6-in-1 Dual Inverter Split AC with ThinQ (Wi-Fi)(RS-Q19FWZE)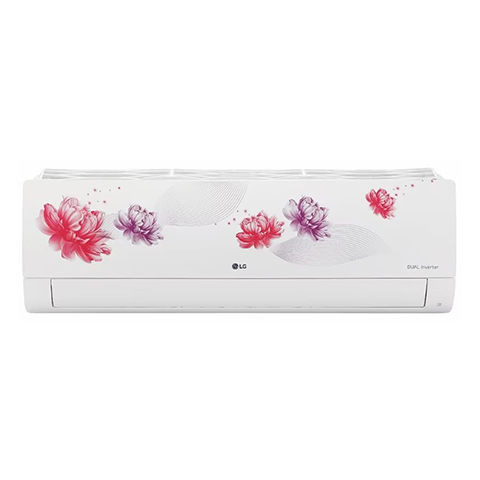 Dual Inverter Compressor
AI+ Convertible 6-in-1 Cooling
Deep Learning Technology
ThinQ (Wi-Fi)
Voice Control with Amazon Alexa & Google Assistant
AI+Dual Inverter Technology
AI+ Dual Inverter Air conditioners with variable tonnage technology are now smarter with the addition of Artificial Intelligence. The AI Dual Inverter predicts not only the appropriate cooling capacity, but also senses room conditions, and it chooses the required fan speed, Vane position & temperature settings.
AI Convertible 6-in-1 Cooling
With AI Convertible 6-in-1 user gets a flexibility to increase or decrease cooling capacity as per requirements. At the same time with its Artificial Intelligence convertible mode and inbuilt sensors, the air conditioner will give perfect cooling by automatically analyzing current conditions and inputs given by the sensors.
LG Air Conditioners comes with ADC Safety sensors as a built of robustness and power of safety at every step of operation, which makes them highly durable and ensure a stable operation.
Operates even at 110% capacity without any time limit to provide instant cooling during peak summer.
Access your air conditioner at any time and from anywhere with a Wi-Fi equipped device and LG's exclusive home appliances control app.
LG DUALCOOL ThinQ Models are compatible to your smart phones and AI Speakers such as Google Assistant & Amazon Alexa. Now monitor & control your LG AC any time completely touch free.
100% Copper Tubes with Ocean Black Protection
Special Ocean Black Protection applied on Copper tubes of both Indoor & Outdoor unit provides exceptional durability for the air conditioner in typical Indian regions affected from sand, salt, industrial smoke and pollutants.
HD Filter with Anti-Virus Protection
LG DUAL Inverter Air Conditioner now comes with an 'Anti-Virus' protection layer fitted HD Filter. The filter mesh is coated with Cationic Silver Ions (AgNPs) that deactivates more than 99% Virus and bacteria in contact. To be precise, it demobilizes up to 99.76% Virus and up to 99.99% bacteria cleansing.
LG DUALCOOL ACs comes with Ocean Black Fin to offer unbeatable protection against dust, smoke and chemicals presents in environment and also offers protection against fin corrosion which in return provide better cooling and cost saving.
The horizontal and vertical swing action ensures better airflow while giving uniform cooling.
LG's enhanced stabilizer-free plus operation prevents voltage fluctuations without compromising on the safety, savings and comfort.
| | |
| --- | --- |
| Weight | 11 kg |
| Dimensions | 998 × 345 × 210 mm |
| Air Conditioner Type | Inverter Split AC |
| Tonnage | 1.5 Ton |
| Star Rating | 5 Star |
| Brand | LG |
| Cooling Capacity (W) | 800 ~ 5400 |
| Compressor | Dual Rotary |
| Refrigerant | R-32 |
| ISEER Value | 5.20 |
| Air circulation (In/Out) (CFM) | 653/1236 |
| Noise Level (Indoor) (db) | 31 |
| Operation Mode | Super Convertible 6-in-1 Cooling |
| Panel Display | Magic Display |
| Filters | HD Filter with Anti Virus Protection, Anti Allergy Filter |
| Air Swing | Auto Air Swing (Up-Down), Auto Air Swing (Left-Right) |
| Other Functions | AI DUAL Inverter, ADC Sensor, Wifi, 100% Copper Tubes, Ocean Black Fin, Ocean Black Protection, High Capacity Mode, Monsoon comfort, Low Gas Detection, Smart Diagnosis System, Comfort Air, Ez Clean Filter, Stabilizer Free Operation, Cools @ 52°C, Auto clean, Sleep mode |
| Power Supply (Volt/Phase/Hz.) | 220-240/Single/50, 1130W Power consumption |
| Indoor + Outdoor Unit Weight(Kg) | 11+30 |
| Warranty | 1 Year on Product, 5 Years on PCB and 10 Years on Compressor with Gas charging |
| Country of Origin | India |