LG 6.5 Kg Front Load Washing Machine with AI Direct Drive Washer with Steam (FHV1265Z2M)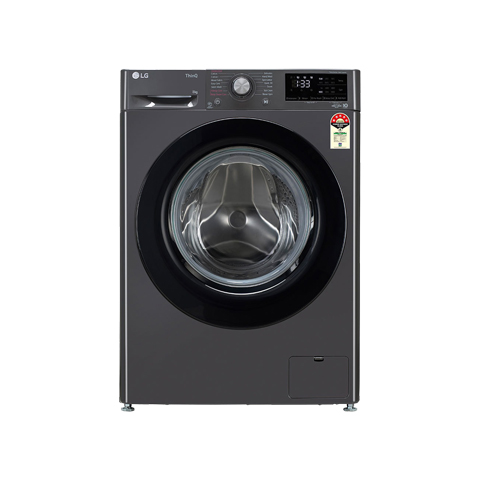 AI DD™ Motor Washing Motion Optimization
99.9%* Virus free with Steam™
6 Motion for better wash performance
Color: Middle Black with Black Door
6 Motion Control Technology
Select a wash program and 6 Motion Direct Drive technology moves the wash drum in multiple directions, giving fabrics the proper care while getting clothes ultra clean.
Less Vibration & Less Noise
LG Front load has its direct drive motor attached directly to the drum that reduces the Noise, vibration & the Wear and Tear.
Extra Care for Delicate Clothes. It sterilizes bacteria and removes dust mites, pet & pollen allergen from your clothes.
Power gone? Trust us, your machine cycle will start exactly from the same cycle where it had stopped when the power is back.
It's not plastic. So, No Bacteria. No Germs. It's stainless steel. Still, No Rust. Only long life.
Virus reduced up to 99.9%* by Steam.
Any problem with your washing machine? Just connect it to the SmartThinQ app and know the problem. You can diagnose up to 86 errors.
No more drying of wet hands. We have a waterproof touch panel with a seamless design.
AI DD™ detects not only the weight, but also senses softness of fabric, and it chooses the optimal motions for the fabric by itself.
| | |
| --- | --- |
| Weight | 61 kg |
| Dimensions | 600 × 455 × 850 mm |
| Washing Machine Type | Fully Automatic |
| Loading Type | Front Load |
| Load Capacity | 6.5 KG |
| RPM | 1200 |
| Star Rating | 5 Star |
| Color | Black |
| Brand | LG |
| Water Consumption | – |
| Wash Program Options | Cotton, Cottons+, Mix, Easy Care, Allergy Care, Delicate, Wool, Speed 14, Download Cycle, Tub Clean, Optional (Prewash, Steam, Add Item, Remote Start, Time Delay) |
| Fabric | Mixed Fabric, Jean, Delicate, Baby Care, Intensive Wash, Wool |
| Additional Features | AI DD Technology, 6 Motion Direct Drive Technology, Add Item, Remote Start, Steam, Smart Diagnosis, Temperature Range (Cold/20/30/40/60/95℃), Time Delay, Auto Restart, Cold Water Feed Only, Auto Door Switch Type, 170 Degree Door Opening Angle |
| Indicators & Alarm | Programme Status Indicator |
| Program Selector Knob | Yes |
| Controller type | Touch |
| Warranty | 2 years warranty on product and 10 years on motor |
| Power Supply | 220 – 240V, 50Hz |
| Country of Origin | India |