Voltas 1.5 Ton, 5 Star 185V ZAZQ Pure Air Inverter AC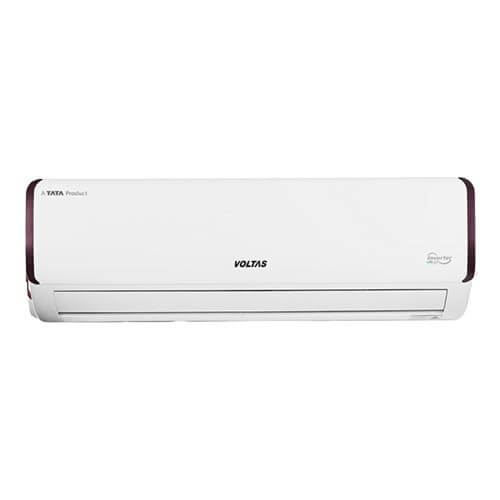 Super UVC Technology

6 Step Adjustable Mode

Super dry

Stabiliser Free Operation

High Ambient Cooling 

Titanium Dioxide Coated Filter
The Voltas Adjustable Inverter AC cools even at 52 degree C. With its superior cooling capacity, it cools easily at high temperatures. It is best suited for environmets with extreme heat conditions
VOLTAS Adjustable Inverter AC delivers higher air flow with its unique louvre design to help cool the room faster with no hot spot in a short period. This particular mode adds to its utility
The Super dry mode dehumidifies the room quickly. The AC runs on predefined higher cooling capacity while limiting the indoor fan blower at a lower speed. This new mode will capture the extra water vapor in air at much higher rate and within less time.
Stabilizer Free Operation
Voltas Adjustable Inverter AC can work under wide operating range of 100-290V which ensures the AC stays protected even if there are voltage fluctuations. Moreover, the start-up voltage required to start the AC is 100V which is very low. Hence, there is no need to use an additional stabilizer with the AC.
You have 4 types of fan speed options to choose from. This ensures superior comfort and convenience in all types of heat. It makes the function of temperature switching even more smooth.
| | |
| --- | --- |
| Weight | 11.8 kg |
| Dimensions | 960 × 317 × 235 mm |
| Air Conditioner Type | Inverter Split AC |
| Tonnage | 1.5 Ton |
| Star Rating | 5 Star |
| Brand | VOLTAS |
| Cooling Capacity (W) | 2600-5200 |
| Compressor | High EER Twin Rotary – BLDC |
| Refrigerant | R-32 |
| ISEER Value | 4.51 |
| Air circulation (In/Out) (CFM) | 930 CMH |
| Noise Level (Indoor) (db) | ≤45 |
| Operation Mode | Auto Restart, Turbo, Swing, Locker, Adjustable Mode, Sleep Mode, Timer |
| Panel Display | LCD |
| Filters | Anti Dust Filter, Titanium Dioxide Coated Filter |
| Air Swing | Auto Air Swing (Up-Down) |
| Other Functions | Anti Dust, Anti Microbial Function, Triple HD Filter Protection, Blue Evaporator Fin, Self DIagnosis, Copper Tubes- Inner Grooved, UVC, Anti Fungal, Dual Temperature Display, Cross Flow, Super Dry Mode, Multi Adjustable Cooling 6 Step, Energy Saver |
| Power Supply (Volt/Phase/Hz.) | 100-290V/Single/50, 1430 Watts Power Consumption |
| Indoor + Outdoor Unit Weight(Kg) | 11.8+28.6 |
| Warranty | 5 Years Comprehensive Warranty |
| Country of Origin | India |