Daikin 1 Ton, 4 Star ATKL35U Inverter Split AC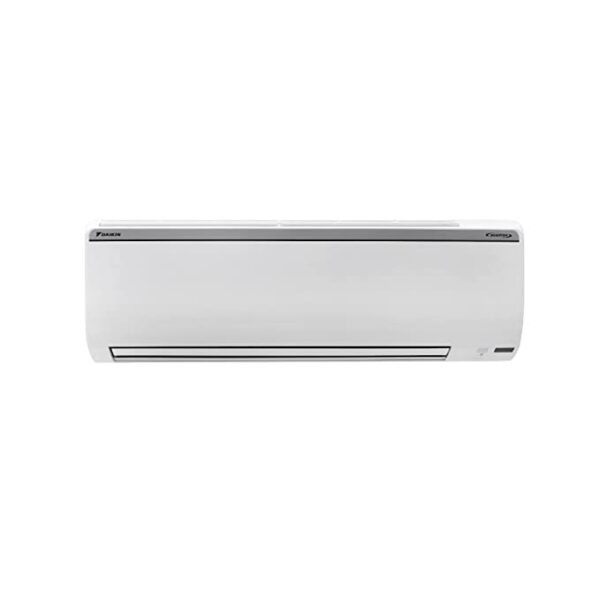 Inverter Compressor
High Ambient Operation upto 52°C
Dew Clean Technology
3D Airflow
Good sleep off timer
Titanium Apatite Deodorising Air Purifying Filter
Dehumidifier
Fast Cooling
Enjoy uniform cooling at every corner. Daikins 3D ensures steady air circulation to deliver even cooling and unmatched comfort. The flap and louver move in tandem with each other to circulate the air in the entire room
With the cross flow evaporator fans, daikin air conditioners every product is perfected to ensure they deliver and carry the badge of trust. Airflow upto 16 meters away from the unit ensures uniform and powerful cooling.
Daikin AC's comes with speacial coating which prevents the rusting of the copper coil, thus ensuring a long life of your device and eliminating your trouble.
Make way for effective air circulation and efficient temperature distribution with daikins coanda airr flow designed to give the best air conditioning experience. This function ensures cooling at corners of the room by streming cool air upwards along the ceiling avaoiding furniture or Obstruction.
Helps you save on the electricity bills and share the
same power circuit with other devices simultaneously
without any problem.
Automatic temperature control ensures that excessive cooling doesn't break your sleep. When Good sleep off operation starts, the set temperature increases by 2°C in the next 2 hours.
itanium Apatite Deodorising Air Filter
This Air Conditioner filter combines the air purifying filter and titanium apatite photocatalyctic deodorising filter in a single highly effective unit. The filter can last long if washed every six months.
Cool down your house so fast even when outside temperature is soaring. Diakins Power chill operation cools down 20% faster as compared to normal mode. Power chill ensure room temperature drops rapidly for immediate comfort.
Stabilizer Free Operation
Voltas Adjustable Inverter AC can work under wide operating range of 145-270V which ensures the AC stays protected even if there are voltage fluctuations. Moreover, the start-up voltage required to start the AC is 100V which is very low. Hence, there is no need to use an additional stabilizer with the AC.
Daikin's Dew clean technology auto cleans the indoor heat exchanger unit getting rid of bacteria moulds and other unwanted particles. It ensures color free, fresh, consistent air flow at all times.
Unlike most regular air conditioners that are designed to deliver cooling at 35°C, diakin air conditioners are designed to perform at extreme ambient conditions as high as 52°C, This makes them the ideal choice for dry and tropical countries.
The triple display feature shows 3 key optimum running features on your display panel: the percentage of power consumed at any given time, the set temperature of your room, the error codes, if any. This ensures the well being of your system.
Power- Air flow Dual Flaps
The power air flow dual flaps along with the cross flow evaporator fans ensure even distribution of cool air in both small and large spaces, making sure you are comfortable at all times
| | |
| --- | --- |
| Weight | 9.5 kg |
| Dimensions | 821 × 298 × 235 mm |
| Air Conditioner Type | Inverter Split AC |
| Tonnage | 1 Ton |
| Star Rating | 4 Star |
| Brand | DAIKIN |
| Cooling Capacity (W) | 1.07-3.7Kw |
| Compressor | Twin Rotary |
| Refrigerant | R-32 |
| ISEER Value | 4 |
| Air circulation (In/Out) (CFM) | 420 |
| Noise Level (Indoor) (db) | 38 |
| Operation Mode | Auto Restart, Sleep Mode, Turbo, Swing, Lock, Timer, Self Diagnosis |
| Panel Display | LED Light |
| Filters | Anti Bacterial Filter, Air Purification Filters |
| Air Swing | Auto Air Swing (Up-Down) |
| Other Functions | Titanium Apatite, Inverter Compressor, High Ambient Operation upto 52°C, 3D Airflow, Dew Clean Technology, Triple Display, Anti Bacterial Filter, Auto Clean, Dehumidifier, Fast Cooling |
| Power Supply (Volt/Phase/Hz.) | 230V/Single/50, 1200 Watts Power Consumption |
| Indoor + Outdoor Unit Weight(Kg) | 9.5+21.5 |
| Warranty | 5 Years on PCB, 10 Years on Compressor |
| Country of Origin | India |