Hitachi Kiyora 5200WX 1.5 Ton, 5 Star Inverter Split AC (RSRG518MFEOZ1)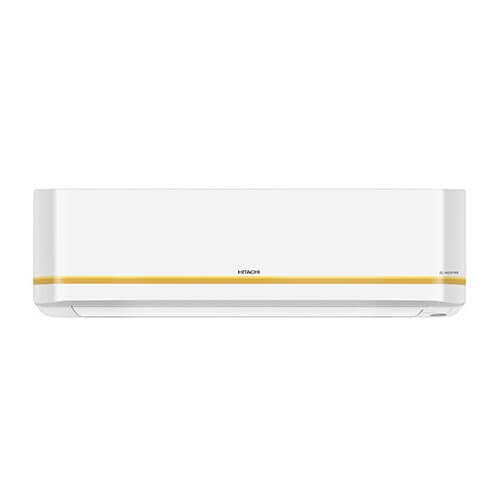 100% Inner Grooved Copper Tube

Voice Command

SuperSlit Fins

Stabiliser Free Operation

Tropical Design

Penta Sensor

Filter Clean Indicator

SuperFine Mesh Filter

Stepless Compressor Control

Ambience light

100% Cooling Capacity at 43ºC
Hitachi's Expandable AC expands its capacity in adverse temperature conditions, it cuts down humidity level inside the room and achieves set temperature faster.
Introducing for the first time ever, an immersive display on the AC which helps you understand the ambience better and control the temperature more effectively.
A unique alert reminds you to clean the filter at regular intervals, ensuring powerful cooling all the time.
Hitachi's unique SuperFine mesh filter captures microdust particle and also offers hassle-free cleaning.
Stepless Compressor Control
Specially designed advanced microcontroller checks indoor and outdoor condition, and varies compressor speed seamlessly, thus offering uninterrupted cooling.
100% Inner Grooved Copper Tube
Hitachi's 100% inner grooved copper ensures faster cooling with its turbulent refrigerant flow that enhances heat transfer rate.
SuperSlit fins of Hitachi AC have multiple slits that provide more heat exchange area and cools the room faster.
Stabilizer Free Operation
Have compӏete protection from power fӏuctuation that ranges from 160V to 255V
Hitachi ACs are designed to keep you cool and work efficiently up to 52°C.
Hitachi's intelligent Penta sensor technology with its advanced microcontroller offers perfect cooling even in extreme summer conditions, optimizes cooling in load variation and protects critical components of the AC.
airCloud Home : Wi-Fi enabled AC
An inbuilt Wi-Fi in your ac lets you remotely monitor and control your AC with a single app through a smartphone, digital device, or voice assistant. Now, you can communicate with your ac with a voice command from Google Home, Amazon Echo, or smartphone assistant. Connect your AC to your geolocation with our Smart-Fence feature and live a comfortable life as your ac will switch on before you enter your house and will switch off after you leave your house, it's that simple with Smart-Fence. The Wi-Fi lets you know about AC setting from anywhere anytime.
Odour-free air : Auto Coil Dry Technology
Auto Coil Dry Technology keeps the indoor fan blower running for sometime on standby mode whenever the AC is switched off with remote controller. This dries up the evaporator coil and prevents accumulation of debris, dust and pollen, keeping the unit dry and clean to ensure Odour free air.
Silent air : Wave Blade Design Technology
Unlike the conventional straight blades, our unique Sine Wave Blade Design and the bigger blower size, ensures air cutting noise reduction and far reaching maximum air volume. Enjoy the comfort of Silent air delivered by the quiet operation and larger air throw of Hitachi ACs.
Weight
13 kg
Dimensions
997 × 294 × 253 mm
Air Conditioner Type

Inverter Split AC

Tonnage

1.5 Ton

Star Rating

5 Star

Brand

HITACHI

Cooling Capacity (W)

5275-5568

Compressor

Tropical Rotary

Refrigerant

R-32

ISEER Value

4.55

Air circulation (In/Out) (CFM)

620

Noise Level (Indoor) (db)

36

Operation Mode

Auto, Cool, Fan, Dry, Powerful, Sleep

Panel Display

None

Filters

Dust Filters, Anti Bacterial Filters

Air Swing

Air Swing (Up-Down)

Other Functions

Voice command, Stabilizer Free Operation, Filter Clean Indicator, On/Off Timer, Auto Mode, Inverter Compressor, High Density Filter, Anti Bacterial Filter, Dehumidifier, Fast Cooling, Hydrophilic Fins, Backlight Remote Control, Tropical Inverter, 100% Cooling at 43° C
100% Inner Grooved Copper Tubes, Superslit Fins, Penta Sensor, Superfine Mesh filter

Power Supply (Volt/Phase/Hz.)

230/Single/50, 897.84 kWh Power Consumption

Indoor + Outdoor Unit Weight(Kg)

13+30.80

Warranty

1 Year Complete Warranty, 5 Year Compressor Warranty

Country of Origin

India