LG 1.5 Ton, 5 Star Super Smart Convertible 5-in-1 Dual Inverter Split AC with ThinQ (Wi-Fi)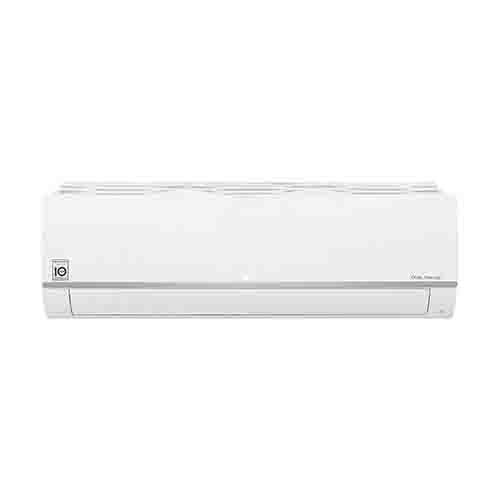 DUAL Inverter
Super Convertible 5-in-1 Cooling
ThinQ (Wi-Fi)
Voice Control with Amazon Alexa & Google Assistant
Anti Allergy Filter
HD Filter with Anti Virus Protection
LG's DUAL Inverter Compressor with Varied Speed Dual Rotary Motor has a wider rotational frequency which saves more energy along with higher speed cooling range than conventional compressors. This ensures that our DUAL Inverter ACs cool faster, last longer and run quieter.
Super Convertible 5-in-1 Cooling
LG DUALCOOL AC with Super Convertible 5-in-1 Cooling Control, you can not only save a lot of energy by stepping down the cooling capacity from 100% to 80%, 60% or 40%, but even increase the cooling capacity to 110% when faster cooling becomes most important.
Access your air conditioner at any time and from anywhere with a Wi-Fi equipped device and LG's exclusive home appliances control app.
LG DUALCOOL ThinQ Models are compatible to your smart phones and AI Speakers such as Google Assistant & Amazon Alexa. Now monitor & control your LG AC any time completely touch free.
Anti Allergy Filter is designed to capture dust particles over 10μm in size while removing allergens in the air, such as dust mites, to provide a cleaner, healthier environment.
R32 is a highly efficient refrigerant with a lower global warming potential as compared to R410A, a commonly found refrigerant in residential air conditioners.
The horizontal and vertical swing action ensures better airflow while giving uniform cooling..
HD Filter with Anti-Virus Protection
LG DUAL Inverter Air Conditioner now comes with an 'Anti-Virus' protection layer fitted HD Filter. The filter mesh is coated with Cationic Silver Ions (AgNPs) that deactivates more than 99% Virus and bacteria in contact. To be precise, it demobilizes up to 99.76% Virus and up to 99.99% bacteria cleansing.
LG DUALCOOL ACs comes with Ocean Black Fin to offer unbeatable protection against dust, smoke and chemicals presents in environment and also offers protection against fin corrosion which in return provide better cooling and cost saving.
100% Copper Tubes with Ocean Black Protection
Special Ocean Black Protection applied on Copper tubes of both Indoor & Outdoor unit provides exceptional durability for the air conditioner in typical Indian regions affected from sand, salt, industrial smoke and pollutants.
CH 38 is clearly displayed on the air conditioner for timely maintenance and refilling, if LG Air Conditioner detects low gas levels.
LG's enhanced stabilizer-free plus operation prevents voltage fluctuations without compromising on the safety, savings and comfort.
Easy to understand error notifications and remote diagnosis help you correspond with the nearest LG service center and solve the problem instantly.
Hi Grooved Copper serves dual benefits: 1. It Enables the oscillatory movement that agitates the refrigerant for better heat dissipation.
Just Turn on Auto Clean and your heat exchanger will dry. So there's no scope of bacteria and mold forming in it.
Specifications
| | |
| --- | --- |
| Weight | 11 kg |
| Dimensions | 998 × 345 × 210 mm |
| Air Conditioner Type | Inverter Split AC |
| Tonnage | 1.5 Ton |
| Star Rating | 5 Star |
| Brand | LG |
| Cooling Capacity (W) | 400 ~ 5800 |
| Compressor | Dual Inverter |
| Refrigerant | R-32 |
| ISEER Value | 4.73 |
| Air circulation (In/Out) (CFM) | 653/1236 |
| Noise Level (Indoor) (db) | 31 |
| Operation Mode | Super Convertible 5-in-1 Cooling |
| Panel Display | Magic Display |
| Filters | HD Filter with Anti Virus Protection, Anti Allergy Filter |
| Air Swing | Auto Air Swing (Up-Down), Auto Air Swing (Left-Right) |
| Other Functions | Wifi, DUAL Inverter, 100% Copper Tubes, Ocean Black Fin, Ocean Black Protection, High Capacity Mode, Monsoon comfort, Low Gas Detection, Smart Diagnosis System, Comfort Air, Ez Clean Filter, Stabilizer Free Operation, Cools @ 52°C, Auto clean, Sleep mode |
| Power Supply (Volt/Phase/Hz.) | 220-240/Single/50 |
| Indoor + Outdoor Unit Weight(Kg) | 11+28.5 |
| Warranty | 1 Year on Product, 5 Years on PCB and 10 Years on Compressor with Gas charging |
| Country of Origin | India |