LG 32L, Convection Microwave Oven-MC3286BLT (Black)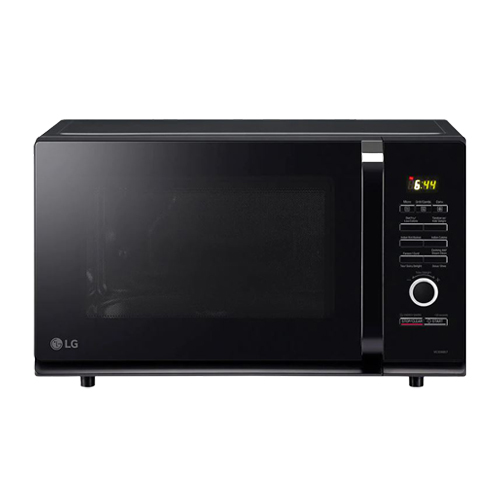 All In One Convection Oven
Ghee in 12Mins
Diet FryTM
Indian Roti Basket
301 Auto Cok Menu
Stainless steel cavity
LG gives you the perfect reason to have your dream kitchen. With LG range of microwave oven, you can cook everything with just one touch. From stewing to roasting. Roasting to Baking. Browning to Pasteurizing. Barbecuing to Diet Frying. Diet Frying to Heating. Steaming to Grilling.This one does all.
Surprise your loved ones by serving dishes from wide choice of world cuisines including new Indian regional recipes.The revolutionary auto cook menu comes with preset cooking time and temperature.Just select the dish you want to cook, press 'Start' and get something new on the dining table every day.
Stainless Steel Cavity enables better reflection and uniformity of heating inside the cavity for better even cooking. This cavity does not peel off like in coated cavities wherein the continuous rubbing of the turntable deteriorates and eventually peels off the coating exposing the base material.
A specially coated non-stick tray for dishes that require extra browning and bottom heating.
Now you can prepare different variety of exotic rotis at the touch of a button. Roti Basket* lets you prepare delicious Naans, Lachcha Paranthas, Tandoori Rotis, Missi Rotis easily. When it is possible to prepare all this at home, why would you want to eat out any more!
Now make softer and delicious Paneer at home without the use of any chemicals or enzymes. Perfectly blended, hygienically prepared, delicious homemade curd isn't a dream anymore. And believe us, all you need to prepare it, is an All in One LG Microwave Oven at your home.
With the latest range of LG Microwave Ovens, making hygiene Ghee with absolutely no smell is a matter of 12 minutes. Not just this, it also provide you easy cooking option, added convenience and a lot more.
Learn to cook exotic, mouth watering recipes from all over India. These recipes are not only delicious but also quite simple to make.
Now you can enjoy crispy delights without worrying about all that oil playing havoc with your health. That's because the Diet Fry™ feature in LG Microwave Ovens lets you prepare these dishes with minimum use of oil. So now dig into those samosas, gujiyas, pakoras and more without feeling guilty!
| | |
| --- | --- |
| Weight | 22 kg |
| Dimensions | 530 × 533 × 322 mm |
| Oven Capacity | 32 Litres |
| Oven Technology | Convection |
| Brand | LG |
| Color | Black |
| Control Method | Tact Dial |
| Cavity Material | Stainless Steel |
| Turntable Size | 340 mm |
| Display Type | LED |
| Convection Heater | Quartz |
| Grill Heater | – |
| Cooking Features | Indian Roti Basket 25, Diet Fry 12, Tandoor Se 14, Dosa 8, Healthy Heart,Tanddor Se, Kids Delight 40, Sweets Corner 20, Continental Menu 21, Soup 20, Childs Favorite 27, Bakery Menu 13, Utilitiy Corner 15, Light Disinfect, Chatpat Corner 15, Ghee 1, Indian Cuisine 40, Rice Delight 20, Tea/Dairy Delight 12, Salad 13, Keep Warm, Body Massage Oil, Fermentation, Keep Warm, Steam Cook 19, Steam Clean, Quick Menu, Custom Cook , Intellowave Technology , Auto Cook Options, Auto Defrost Options, Increase/Decrease Function, Pasteurize Milk, Health Plus, Paneer Curd 4, Two Stage Cooking, Quick Start, Defrost Veg/Non Veg, Combination Cooking, Light Disinfect, Next Step Guide, Fast Cook, Beverages, Quick Defrost. |
| Other Features | Indian Auto Cook Menu 211, Cooking Completion Alarm, Child Lock, Auto Cook Menu 301, Multi Cook Tawa |
| Power Supply | 230 V / 50 Hz |
| Microwave Output | 900 Watts |
| Microwave Power Consumption | 2500 Watts |
| Grill Power Consumption | 1250 Watts |
| Convection Power Consumption | 2450 Watts |
| Power Consumption Maximum | 2500 Watts |
| Power Levels | 5 |
| Accessories | Multi Cook Tawa |
| Warranty | 1 Year on Product |
| Country of Origin | India |