Lloyd 2 Ton, 5 Star Inverter Split AC (GLS24I5FWGEV)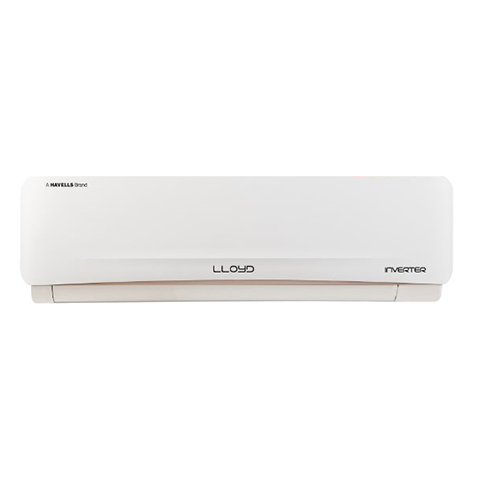 Cools at 52°C

Turbo Cool
Low Gas Detection
Rapid Cooling: 18 °C in 45 Seconds

5 in 1 Convertible AC

Clean Filter Indication
Air Cooled electric control box technology is used to effectively cool down the temperature of electric parts inside the outdoor unit, resulting in non-stop cooling even at 52 °C ambient temperature.
Spreads cool air uniformly across the room through horizontal and vertical louvers.
Rapid Cooling: 18 °C in 45 seconds
With rapid cooling this new-age AC cools faster than ever before. It takes just 45 seconds to give you a comfortable cooling of up to 18 °C. *(Under test conditions grill (air outlet of AC) temperature comes down to 18 °C after start of compressor, with indoor temperature at 25 °C and outdoor ambient at 35 °C)
100% Copper condenser tubes ensure a better rate of heat transfer, better resistance to corrosion, and ability to withstand high pressure, thereby increasing the durability of the product.
Inner Grooved Copper Tube
Inner grooved copper pipes help Lloyd air conditioners provide faster & reliable cooling while also enhancing life of the product.
Lloyd ACs use an environment friendly R-32 refrigerant. This has zero ozone depletion effect ad low global warming effect, hence doing its bit to battle global warming.
Improved efficiency and longevity with gold fin condenser that protects the coil from rain, dust, corrosive elements and salts in the air.
Hidden Digital Display which can be turned off or dimmed as per your preference.
Stabilizer Free Operation
The unique stabilizer free operation prevents voltage fluctuations, hence ensuring safety while also saving energy.
In Turbo Cool mode, AC skips the time lag and compressor starts its operations immediately. AC works in turbo / super cool mode for non-stop 60 minutes to bring down the temperature fast and automatically exists the mode thereafter (when set temperature is ≥ 17 °C).
It's a multimode setting for cooling options which can be used as per individual's requirement like heat load, weather conditions or number of people in the room and maintain economy at the same time.
| | |
| --- | --- |
| Weight | 14.2 kg |
| Dimensions | 1161 × 340 × 240 mm |
| Air Conditioner Type | Inverter Split AC |
| Tonnage | 2 Ton |
| Star Rating | 5 Star |
| Cooling Capacity (W) | 6340 W / 3170 W |
| Compressor | Rotary |
| Refrigerant | R-32 |
| ISEER Value | 5.06 |
| Air circulation (In/Out) (CFM) | 1270 m³/h |
| Noise Level (Indoor) (db) | 43 |
| Operation Mode | Swing, Locker |
| Panel Display | LED |
| Filters | Anti Viral Dust Filter, PM 2.5 Filter |
| Air Swing | Air Swing (Up-Down), Air Swing (Left-Right) |
| Power Supply (Volt/Phase/Hz.) | 230V/Single/50, 970.29 kWh Consumption |
| Indoor + Outdoor Unit Weight(Kg) | 11.5+30.6 |
| Other Functions | Refrigerant: R-32, Rapid Cooling, Golden Fin Condenser, Hidden LED Display, Stabilizer Free Operation, Low Gas Detection, Clean Filter Indication and Cooling Area Coverage-19.7 m² |
| Brand | LLOYD |
| Warranty | 1 Year Comprehensive Warranty, 10 Years Compressor Warranty |
| Country of Origin | India |