Bosch 7Kg, Top Load Washing Machine (WOE703S0IN)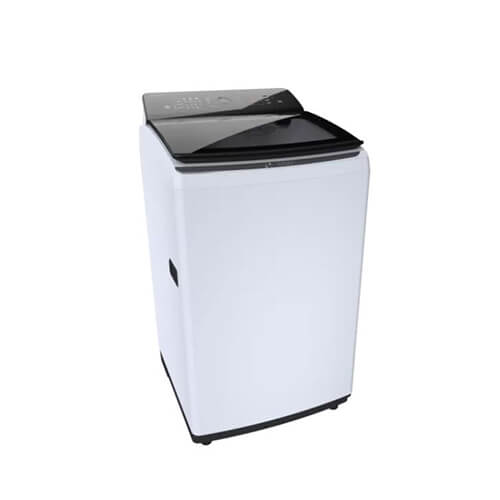 Eco Silence Drive

Pumping Tower and magic Filter
Soft Closing Lid
Delay Start
Level Indicator
Anti Tangle
Eco Silence Drive friction-free motor minimises heat and wear for long-lasting performance, quiet operation and perfect wash results.
Specially designed Droplet Patterned drum which gently rubs the clothes during the wash mimicking the soft rubbing by hands like in a hand wash
Soft Closing Lid for gradual, injury free and silent lid closure
The design which is rough on one side and smooth on the other side inspired by the 'Rough surfaces used during hand wash'
These are located at the bottom of the drum which gently scrubs your clothes for a superior wash perfomance like a scrubbing with brush during hand wash
Pumping tower & Magic Filter
The pumping tower circulates water up and down and intermittently splashes fresh water for better mixing of detergent during the wash. The detachable and cleanable magic filter collects all the lint from clothes during the wash
Pulsator with 3 cam Impellers
Innovatively designed pulsator with 3 cam impellers for 360 degree rotation of clothes
Full Touch Panel with Rotary Knob
Enhance your interaction experience to next level with Industry first full capacative touch panel along with Rotary Knob for effortless operation and program selection.
Pre soak your clothes with 4 flexible timer options like (15,30,45,60 mins) in the washing machine itself and reduce your efforts by avoiding it by doing in a bucket and transfering later into the washing machine.
| | |
| --- | --- |
| Weight | 41.5 kg |
| Dimensions | 552 × 542 × 1015 mm |
| Washing Machine Type | Fully Automatic |
| Loading Type | Top Load |
| Load Capacity | 7 KG |
| RPM | 680 |
| Star Rating | A++ |
| Color | White |
| Water Consumption | 22.86 Litres / Cycle |
| Wash Program Options | Smart Suggest, Quick Wash, Mix, Jeans, Bedsheet, Synthetics, Whites, Cotton 30º, Delicates, Tub Clean, Drum clean, Mixed Fabrics, ON, Program, Short programme / quick, Soaking 15-30-60-90 min, Soil level, Start/Reload, Time delay, Delicates programme, Easy-care programme, Whites and coloureds programme |
| Fabric | Cotton, Synthetic, Baby Care, Saree, Stainwash, Woollens, Bedsheets |
| Additional Features | Start Delay, 65 dB(A) re 1 pW Noise level Washing, 75 dB(A) re 1 pW Noise Level Spinning, Multiple Water Protection, Hot & cold water intake, Stainless Steel Drum material, 50Hz Frequency, Balance Control. |
| Indicators & Alarm | Digital Count Down Indicator |
| Program Selector Knob | Touch Button and Rotate Knob |
| Controller type | Membrane with Tactile Switch |
| Power Supply | 150 – 240V, 50Hz |
| Brand | BOSCH |
| Warranty | 2 Years warranty on product |
| Country of Origin | India |