IFB 10 Kg, 5 Star Top Load Washing Machine (TL-SIBS)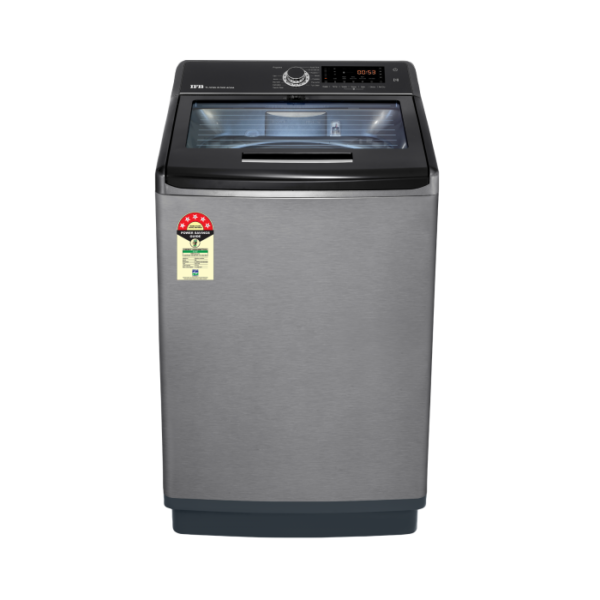 State of the art heater technology tested to last atleast 10 years. Scale proof, rust proof and even saves you energy while giving you 99.99% germ free wash.
Removing allergens, giving you fresh, clean clothes that are 99.99% germ free, keeping allergies at bay. Essential for home with kids.
Dynamic water jets and showers from paddles completely soak clothes and dissolve detergent.
99.9% germ free coth with a dual steam cycle and hot wash upto 60 Degrees Celsius. Get the highest level of hygiene for your laundry.
Enables both vertical and horizontal movement of clothes in the drum for unifomr soaking and washing.
Smooth crescent moon grooves on the drum surface creates a gentlewater cushion that prevents damage to fabrics.
This feature make sure that the tub remains clean for the next wash. 
Freezes the machine settings to prevent children playing with them.
Auto Imbalance Vibration Control
Smart sensing mechanism to detect and correct any imbalance during spin.
Traps lint and loose microfibres during washing which otherwise are drained, affecting the environment. easily removed for cleaning.
Soft scrub pads removes stubborn dirt. Powerful swirl jets dislodge dirt from fabrics. mechanical centre punch action pushes out the dirt.
Special program that easily washes out the most stubborn stains. For best results use this programm within 48hrs of clothes getting stained.
Weight
46 kg
Dimensions
640 × 620 × 1030 mm
Washing Machine Type

Fully Automatic

Loading Type

Top Load

Load Capacity

10.5 KG

RPM

720

Star Rating

5 Star

Color

PCM-Inox

Brand

IFB

Water Consumption

16 Litres (L/kg/cycle)

Wash Program Options

Hot Wash Temperature Selection(40,60,Steam), Water Inlet Selection/Temperature(Cold), Water Level Selection(10), Wash Time Selection(3-20 Mins), Soak Time Selection (38/48/58 Mins) , Rinse Time Selection(1-5 Mins), Spin Time Selection(1- 9 Mins), Air Dry Time Selection (60-120 Mins), Spray Rinse Time Selection(1-5 Mins), Power Wash(Mix/Dry), Quick Express Wash, Tub Clean, Delicates, Hygiene/Anti-Allergen, Jeans, Sportswear, Fourite, saree

Fabric

Jeans, Delicates, Blankets, Sports Wear, Saree

Additional Features

Heater, Power Steam, Stain Fighter, Triadic Pulsator, Bi Axial Movement, Smart Sense, Crescent Moon Drum, Machine Level Indicator, Lint Tower filter, Water Recirculation Pump, Silent, Programm Memory Backup, Auto Tub Clean, Aqua Energie, 4D Wash, High Low Voltage Protection, Auto Imbalance System, Child Lock, Soft Close Door, Drum Lamp, Water Recirculation Pump, Machine Mobility, Delay Start, Spray Rinse
Water Supply: 0.3 Bar – 10 Bar
Energy Consumption : 0.013kWh

Indicators & Alarm

Task Completion Indicator

Program Selector Knob

Yes

Controller type

Button with Tack Switch & Knob Selector

Warranty

4 Years Super Warranty + 10 Years Spare Parts Support + 10 Years Motor Warranty, Included Components – User manual + Warranty card, washing machine, Hose drain, hose inlet, back cover

Power Supply

220 – 240V, 50Hz

Country of Origin

India