IFB Senorita SXS 6.5 Kg, 5 Star Front Load Washing Machine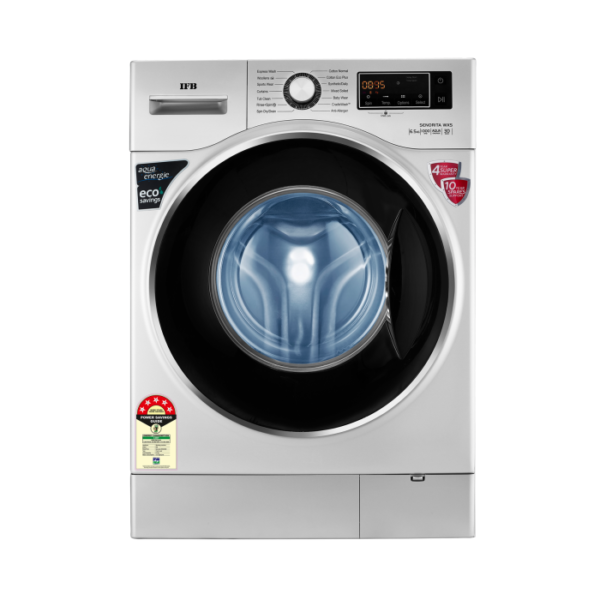 Aqua Energie
3D Wash System
Laundry Add Option
Ball Valve Technology
Crescent Moon Drum
A Final Rinse using hot water to ensure clothes are 99.99% free of residual detergent.
Removing allergens, giving you fresh, clean clothes that are 99.99% germ free, keeping allergies at bay. Essential for home with kids.
Soaks clothes thoroughly to deliver an excellent wash.
Select 30,40,60,95 degree C temperature to wash all fabric types. 99.99% germ removal- for cottons use upto 95 degree C ,Synthetics 60 degree C.
Water is energised by built in device. The filter treatment dissolves detergent better to give clothes a softer wash.
Give your silks, lace, satins, chiffons and delicates the gentle yet effective care they deserve
Display error codes on the machine, enabling you to troubleshoot the problem. In case error persists, contact IFB care.
Lets you pause the cycle, open the door and add laundry at the beginning of the wash cycle.
Smooth crescent moon grooves on the drum surface creates a gentlewater cushion that prevents damage to fabrics.
Weight
66 kg
Dimensions
513 × 598 × 875 mm
Washing Machine Type

Fully Automatic

Loading Type

Front Load

Load Capacity

6.5 KG

RPM

400, 600, 800, 1000, No Spin

Star Rating

5 Star

Color

Silver

Brand

IFB

Water Consumption

8.9 Litres (L/kg/cycle)

Wash Program Options

Adjustable Temperature Range, Anti Increase, Prewash, Soak, Extra Rinse, Rinse Hold, Time Saver, Delay Start

Fabric

Cradle Wash, Baby Wear, Woollens/Hand Wash, Bulky Bedding/Curtains/Duvet, Normal Cotton, Mixed Soiled/Mixed Fabrics, Synthetic/Daily/Easy Care

Additional Features

Programm Memory Backup, Quick/Express Wash, Auto Tub Clean, Aqua Energie, 4D Wash, Express Wash, Craddle Wash, Wash Cycles, Self Diagnosis, High Low Voltage Protection, Auto Imbalance Vibration Control, Child Lock, Protective Rat Mesh, Foam Detection, Auto Restart, Add Laundry, Auto Tub Clean
Water Supply: 0.3 Bar – 10 Bar
Energy Consumption (Cotton / Eco 60 degree C – kWh): 0.089
Door Opening Angle (degree): 515
Temperature Options: 20 degree C, 30 degree C, 40 degree C, 60 degree C, 95 degree C, Cold

Indicators & Alarm

Task Completion Indicator

Program Selector Knob

Smart Encoder – Multi Position

Controller type

Tactile

Warranty

4 Years Super Warranty + 10 Years Spare Parts Support + 10 Years Motor Warranty

Power Supply

220 – 240V, 50Hz

Country of Origin

India