LG 8L RO+UV Water Purifier with Stainless Steel Tank, Mineral Booster and In Tank UV (WW155NPB)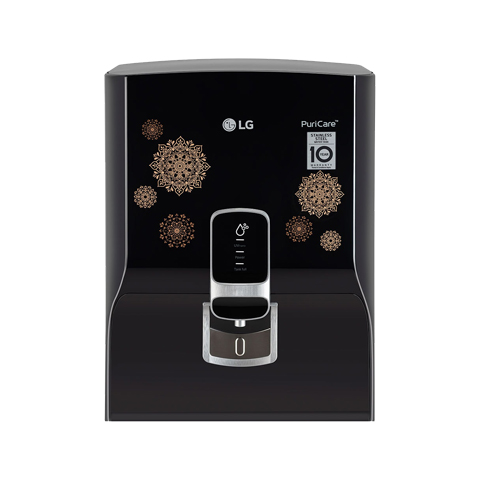 True RO Filtration
Dual Protection Stainless Steel Tank
EverFresh UV Plus
Digital Sterilizing care
Mineral Booster
Complementary True Maintenance Package
Dual Protection Stainless Steel Water Tank
The LG water purifier's Dual Protection Stainless Steel Water Tank, maintain freshness of water and reduce the growth of bacteria and algae. Far more hygienic than a conventional plastic tank, it ensures that water remains safe for drinking with Dual Protection Seal.
LG's Stainless Steel water storage tanks have 94.4% less E.Coli growth in 24hrs as compared to plastic tanks. Thus, stainless steel storage tank in LG True water purifier is safer than regular plastic tank in other water purifier.
LG's innovative Digital Sterilizing Care praised most hygienic method to sterilize the entire water path, Faucet and tank with the unique sterilizing Kit that does not use any harmful chemicals.
Multi Stage Filtration Process
LG's advanced multi-stage reverse osmosis (RO) system delivers safe drinking water via a multi-stage filtration method that removes contaminants as minute as 0.0001 micrometers in size. RO filtration eradicates bacteria, viruses and heavy metals to provide incredibly pure drinking water
RO removes virus and bacteria; so there is no need of UV in the filtration stage. UV Cycle in LG True Water Purifiers runs during the Preservation stage. While the filtered water stored in Dual Protection Stainless Steel Tank is absolutely safe and clean to drink, The UV Cycle that automatically starts every 6 Hours.
Complimentary true Maintenance Package
3 Free Digital Sterilizing Care, 3 Free Scheduled and Automated VIsits, 3 Free Outside Sediment Filters worth Rs.4200.
The Stainless Steel Tank in LG True Water Purifier preserves the freshness of stored filtered water for an enhanced duration.
LG True Water Purifier is equipped with Mineral Filter which adds on minerals in 100% RO Purifier Water and makes water Healthier and Tastier.
| | |
| --- | --- |
| Weight | 9.2 kg |
| Dimensions | 365 × 283 × 506 mm |
| Water Filter Capacity | 8 Litres |
| Color | Black |
| Brand | LG |
| Installation Type | Wall Mount |
| Purified Water Temperature | Room Temperature |
| Filtration Process | Multi Stage |
| Digital Sterilizing Care | Yes |
| Water Tank | Dual Protection Stainless Steel Tank |
| In Tank UV LED | Yes |
| Filters | Outside Sediment filter with anti-scalant module, Composite Filter (Sedi+Carbon), RO Membrane Filter, Mineral Booster Filter |
| Other Features | Filter Change Indicator, Tank Full Indicator, UV Indicator, Power Indicator, RO+UV, STS Tank 10yr warranty, Mineral Booster |
| Power Rating | 40 W |
| Warranty | 1 Year |
| Country of Origin | India |