Whirlpool 7.5 Kg, 5 Star Top Load Washing Machine (White Magic Premier GenX)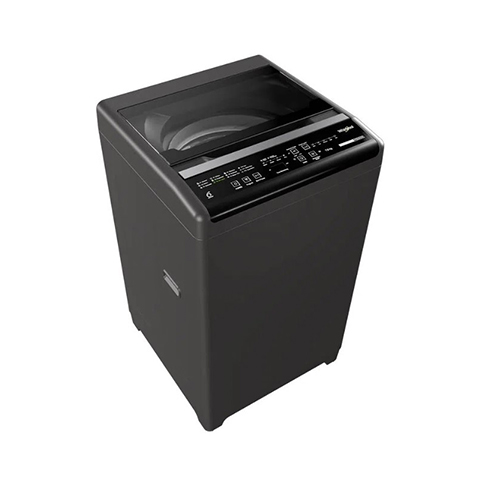 Spiro Wash Technology
6th Sense Technology
Aqua Store
12 Wash Program
Hard Water Wash
Now get 20% better cleaning with the new Spiro Wash Action .This advanced Wash motion washes clothes in a unique circular motion giving it a complete through wash.
Adapts the operations for washing in hard water, maintaining the softness and colour of your clothes. When compared to a normal wash without the feature in hard water and available on select models only.
The new spa wash system delivers the perfect wash and 40% less tangling with it's specially designed prime mover and drum combination. It contains 50% lesser holes than an ordinary wash drum, giving a smoother wash and also reducing the amount of lint generated. Tangling and energy savings scores are basis the tests conducted against specific models in Whirlpool laboratories.
Automatically cleans off all the impurities left on the inner walls of the tub, at the time of spin, during every wash cycle.
Fills tub 50%* faster even when the pressure is as low as 0.017MPa
Express Wash reduces wash time for less soiled clothes, thereby saving energy and detergent.
Invisible to the naked eye, the advanced magic lint filter automatically collects and cleans the lint from the machine during the spin cycle of every wash with the help of its centrifugal force. This automatic features removes the need of any manual intervention from your side.
Smart Sensors – Smart sensors in the machine automatically sense and indicate low voltage & water conditions. Smart Lint Filter – Helps remove any lint accumulated during the wash. Smart Detergent Recommendation – Senses the laundry load inside the tub and recommends detergent dosage accordingly.
Young Children are naturally curious about their surroundings and will always explore. The Child Lock button gives you complete peace of mind, as no buttons can be operated while this mode is switched on.
Whirlpool Stainwash Ultra comes with a 2 year comprehensive warranty and 10 year warranty on motor and prime mover.
The advanced 6th sense technology senses the wash requirements and intuitively adapts the wash cycle to give you a perfect wash every time.
The machine comes with an easy to use 3-button control panel to take care of your washing needs. All you need to press is 1-2-3 and the machine's intelligence takes over to deliver the perfect wash.
| | |
| --- | --- |
| Weight | 29 kg |
| Dimensions | 560 × 540 × 910 mm |
| Washing Machine Type | Fully Automatic |
| Loading Type | Top Load |
| Load Capacity | 7.5 KG |
| RPM | 740 |
| Star Rating | 5 Star |
| Color | Grey |
| Water Consumption | 20.51 Litres (L/kg/cycle) |
| Wash Program Options | Daily, Heavy, Delicates, Whites, Woolens, Eco Wash, Bed Sheets, Rinse+Dry, Dry Only, Wash Only, Stainwash, Aqua Store |
| Fabric | Daily, Heavy, Delicates, Whites, Stainwash, Woollens, Bedsheets |
| Indicators & Alarm | Digital Display |
| Program Selector Knob | No |
| Controller type | Touch |
| Power Supply | 220 – 240V, 50Hz |
| Additional Features | Self Clean Tub, Stainless Steel Tub Material, Lint Filter, Rat Mesh, Child Lock, Spiro Wash 6th Sense Technology, Aqua Store Wash, 12 Wash Program, Express Wash, Hard Water Wash, 5 Water Levels, Water Supply: 0.3 Bar – 10 Bar |
| Brand | WHIRLPOOL |
| Warranty | 2 Years Comprehensive Warranty + 10 Years Motor Warranty |
| Country of Origin | India |