Havells Puro EX 25L Storage Water Heater Geyser (White)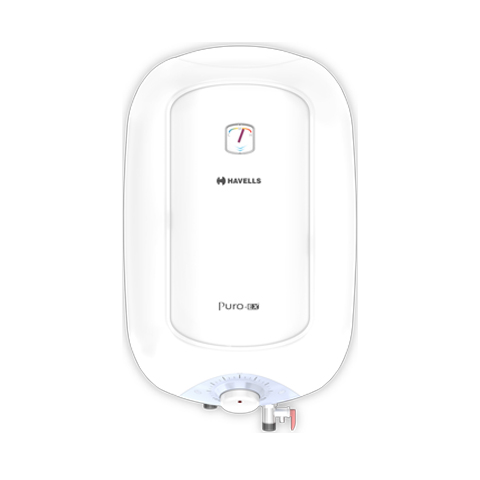 Extreme Hard Water Resistant
Anode Rod protects from corrosion
IPX4 Waterproof Technology
Whirlflow Technology
Able to withstand 8 Bar Pressure
Safety Protection
Incoloy Glass Coated Heating Element
FeroglasTM Technology with Single Weld Line Design
FeroglasTM Technology with Single Weld Line Design
Made of ultra-thick superior quality steel plates. Provides superior corrosion resistance & anti-rust property resulting in longer life compared to standard inner container designs. Tough enough to withstand high pressure rating up to 8 bars
High working pressure 0.8 MPa ideal for high rise buildings
Incoloy Glass Coated Heating Element
Heating element offers superior heating performance with its excellent resistance to both oxidation and carbonization at high temperature setting . Also resists corrosion against extreme and hard water conditions thus extending life span of heating elements with minimum energy loss.
Anode Rod Protects Tank from Corrosion
The tank has an anode rod with a stainless steel core that is designed to protect the tank from corrosive elements . The system uses special catalyst action to fight the corrosive elements which in turn prolongs the life of the water heater.
High Density PUF Insulation
CFC free thicker PUF insulation offers complete protection against radiant heat loss, reduces energy consumption and provides higher energy efficiency.
It avoids direct contact between cold & hot water flow for a faster heating and Optimized energy saving effecting 20% more hot water output.
Adjustment knob for setting the temperature conveniently.
7 year warranty on inner container ; 4 year warranty on heating element ; 2 year comprehensive Warranty
| | |
| --- | --- |
| Weight | 12.2 kg |
| Dimensions | 578 × 370 × 370 mm |
| Water Heater Capacity | 25 Litres |
| Heater Type | Storage Heater |
| Star Rating | 5 Star |
| Brand | HAVELLS |
| Mount Type | Vertical |
| Rated Pressure | 8 Bar |
| Other Features | Whirl flow technology, Color changing ring LED knob, External Temperature Indicator, 30% Mixing Factor Maximum, Incoloy 800 glass coated heating element, Made of ultra thick super cold rolled steel plates, Feroglas dry powder coating technology, Extreme hard water resistance, Heavy duty magnesium anode rod with steel core to protect enamelled tank from rust and corrosion, Thermostat, Thermal cut off, Multifunctional safety valve, IPX4 technology to protect electrical parts from water splash, No, Shock safe plug |
| Power Consumption | 2000W |
| Power Supply | 230 V, 1 Phase, 50 Hz AC |
| Warranty | 2 / 4 / 7 years (Product / Element / Tank) |
| Country of Origin | India |